---
ABOUT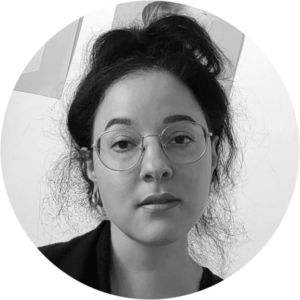 My name is Dana and I'm a German-Syrian digital artist. I received my Diploma in Design in 2013 and have worked as a Graphic Designer, but ever since I started freelancing in 2019 I focused more on creating animations and digital drawings in Procreate.
I joined the Cryptospace in 2021 and have since sold NFTs on the Ethereum and Tezos Blockchains. My work is often futuristic and cyberpunk themed, I specialize in urban sceneries.
As of 2019, I am a member of the Illustrators Orgaization e.V. – the occupational union for illustrators.
---
BIOGRAPHY
1988 – Born in Bonn, Germany
1999 – 2006 – Secondary school
2006 – 2008 – studied Fashion Design at Berufskolleg Humboldtstraße, Cologne
2009 – 2013 – studied Graphic Design at Kölner Design Akademie, Cologne
2013 – 2019 – Graphic Designer at FIRE-FLOW, Berlin
2019 – present – self-employed as Digital Artist